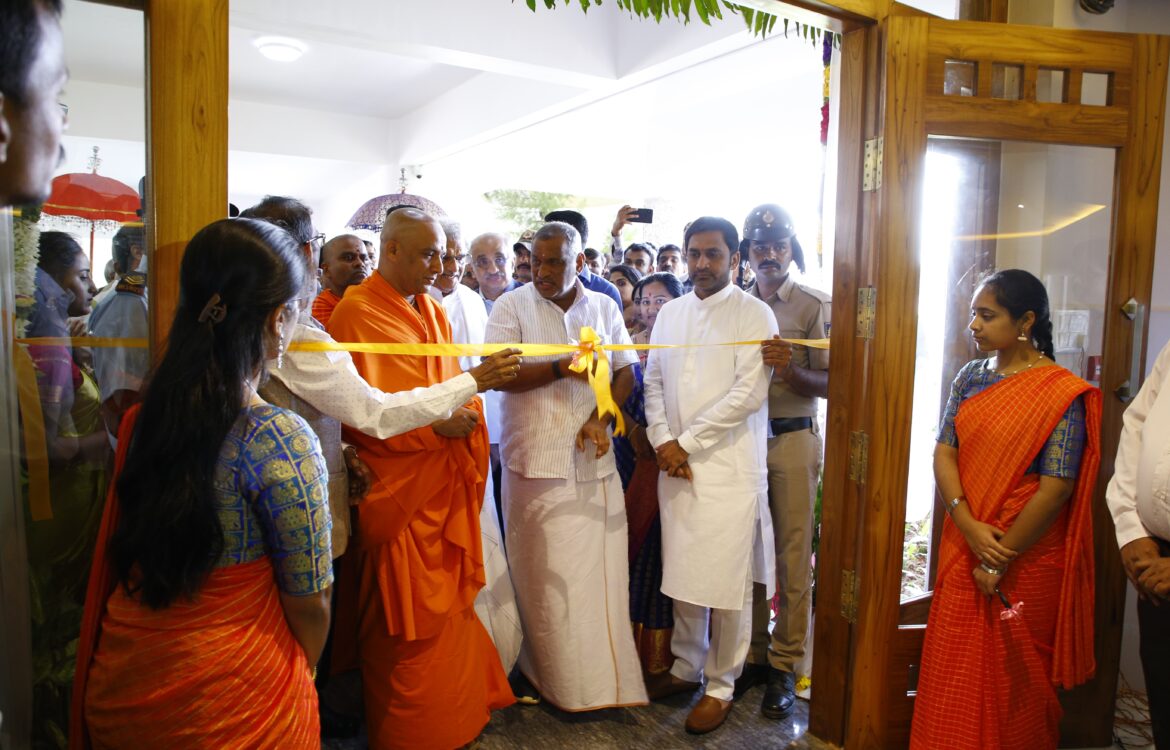 28th Shishyopanayana celebration& Inauguration of Renovated Hospital Building
Inauguration of renovated Ayurveda Hospital, Hassan & 28th Shishyopanayana celebration was organized on 25th Oct 2019 on the auspicious eve of Dhanvantari Jayanti. The program was presided by Dr. D. Veerendra Heggade, Dharmadhikari, Sri Kshetra Dharmasthala. Shishyopanayana Aashirvachana was done by His Holiness Sri Sri Sri Dr. Nirmalanandanatha Mahaswamiji. In his talk the seer spoke that "Education brings liberation" & that "Health is the coordination of individual consciousness & universal cognizance". He also emphasized about two important factors for the development of a nation, one the development of rural sector & the other awareness in people about their power for the growth of the nation.
Sri J C Madhuswamy, Minister of Law, Parliamentary affairs & legislation & Minor Irrigation, Govt. of Karnataka & District In- charge Minister, Hassan in his address emphasized on making the minds strong to achieve targets in life; he also praised the works carried out by Dr. D. Veerendra Heggade in different sectors. Sri Preetham J Gowda, MLA, Hassan opined that Ayurveda medicine is useful in complete cure of the disease & not just mere symptomatic treatment.
Sri H D Revanna, Former Minister of PWD, MLA, Holenarasipura released a Handbook of Ayurveda- Secret to Longevity and gave away walkers to health seekers. He spoke that he would continue to work for the betterment of people in different areas. On this occasion "Ayurashmi" was released that focuses on the events of the academic year, achievements of staff & students.
Dr. D. Veerendra Heggade in his presidential address asked all scholars to be like angels and make society healthy and reiterated that Ayurveda has a holistic approach and it can be functional and heal the sufferings of people.
Sri R Girish, DC, Hassan, Sri Ram Niwas Sepat, SP, Hassan, Dr. Anand Kirishal, Executive Member, CCIM, New Delhi, Sri Naveen Bhat, Asst. Commissioner, Dr. Prakash Rao, Joint Director, AYUSH, Bengaluru, Sri HV Chandre Gowda, Councilor, CMC, Hassan, Smt. Shweta Devaraj, President, ZP, Hassan & Smt. B K Sumithra, President, Handinakere Gramapanchayat, Hassan, were other dignitaries present on the dais.
Other luminaries present on the occasion were the local representatives of Hassan district, management members of SDMES, Ujire, Sri Surendra Kumar, Vice President, SDMES, Ujire, Dr. B Yashovarma, Secretary, SDMES, Ujire, Sri Shreyas Kumar, Project Director, SDMES, Ujire, Dr. Prasanna N Rao, Principal, SDMCAH, Hassan, eminent personalities of Ayurveda from across the country, faculty of SDM Colleges of Ayurveda of Hassan, Udupi & Bangalore, personnel from media, parents & students. A mega Ayurveda camp was organized on 26th Oct 2019.